When: Wednesday 8th November, 6.30 pm – 8 pm
Where: Liquor Rooms, Wellington Quay, Dublin 2
Cost: €12.50 early bird / €15 full price
Come to Digital Charity Lab's evening of knowledge sharing and socialising for people working in digital for non profits.
Featuring short presentations about a variety of successful digital fundraising and advocacy campaigns from progressive non-profits – showing how the campaigners crafted their messages to inspire people to actually take action.
Free drink for all attendees on arrival!
Full details & booking on EventBrite
Sponsors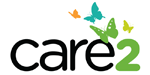 We are delighted to have Care2 – the world's largest community for good – as sponsors of this event.
Care2 was founded in 1998 with a simple mission: to help make the world a better place. Today, Care2 is a highly-engaged social network of nearly 40 million citizen activists standing together for good and making extraordinary impact – locally, nationally and internationally – by starting petitions and supporting each other's campaigns.
Find out more at www.care2services.com